Nesmith Library Presents
an Evening with
Author Frank Grzyb
Tuesday, December 3rd at 6:30 p.m.
Join author Frank L. Grzyb as he investigates Rhode Island's rich Civil War history and unearths century-old stories that have since faded into obscurity with his book
Hidden History of Rhode Island and the Civil War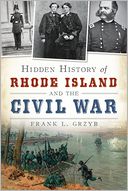 This program is free and open to the public.
Frank Grzyb's book will be available for purchase and signing following the presentation.
Frank Grzyb is a decorated combat veteran and the author of three previous books: Touched by a Dragon, Ain't Much of War and Rhode Island's Civil War Hospital. His work has been featured in such magazines as America's Civil War, Civil War Monitor and The Civil War Times. When not enjoying his family, Frank serves as a guest lecturer at high schools, universities and military, civic and religious organizations.
Sponsored by The Friends of the Library of Windham
updated 11/15/13